Marius Fabre dishwashing liquid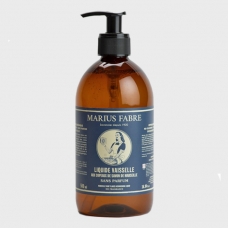 Product Code:
M9603
Weight:
0.55 kg
Availability:
In Stock
Price: 12.90 €

Marseille soap flakes dishwashing liquid, no fragrance
Marius Fabre dishwashing liquid is made with Marseille soap flakes at our family soap factory in Salon de Provence using the same recipe for 4 generations.
Made with plant-based cleaning agents, it is an efficient degreaser and cleaner and easy to rinse.
Hyppoallergenic, it is gentle on the hands.
Very practical in its flask pump 500 ml, it will become the fast one of the essential products in your kitchen.
Instructions for use:
Regular dishwashing : 1 dose = press once (2.5ml) directly onto a dish washing cloth or sponge. Wash and rinse.

For difficult or very dirty dishes : soak the dishes, 2 doses for 5 liters of water, press twice.
Composition:
Less than 15 % of anionic surface agents, less than 5 % of amphoteric surface agents, conservatives, soap.
The quality charter "Marius Fabre":
- Soap flakes in oil 100 % vegetable
- Hypoallergenic
- Quality guaranteed by a family know-how since 4 generations
- Ecological, respect the environment
- Recyclable packagings
- Products not tested on animals
Write a review
Your Name:
Your Review:
Note: HTML is not translated!
Rating:
Bad
Good
Enter the code in the box below: