Marius Fabre Liquid Black Soap Spray for Garden, 500 ml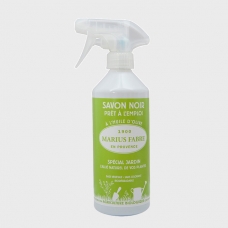 Brand:
Greenwalk
Product Code:
M9601
Weight:
0.55 kg
Availability:
In Stock
Price: 11.90 €

Made exclusively from olive oil, no added colourings, no solvents, no preservatives, ready-to-use "gardeners' special" liquid black soap is 100% natural. An economical, greener alternative, it's good for people and good for the planet. Ready-to-use, it is made according to the genuine Marseilles soap-making traditions and owes its natural colour to the olive oil it contains.
Use this ready-to-use diluted black soap on your plants to clean up sooty mould left by greenfly, to get rid of scale insects, etc. (rosebushes, ornamental plants, fruit trees, vegetable gardens, etc.) and to prevent further infestation.
Spray bottle format. Very easy to use.
Instructions for use:
Shake well before use. Spray onto your plants. Repeat several times if necessary.
Do not spray plants in direct sunlight and avoid the hottest times of day.
Do not swollow. In case of contact with eyes, rinse thoroughly.
Ingredients/INCI:
Potassium soap with olive oil (5% or more, but less than 15%) , Water.
Write a review
Your Name:
Your Review:
Note: HTML is not translated!
Rating:
Bad
Good
Enter the code in the box below: