Greenwalk® "Dish Soap Citrus" dishwashing liquid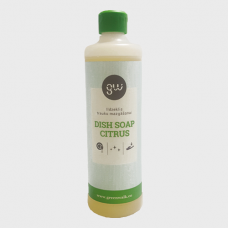 Brand:
Greenwalk
Product Code:
7020
Weight:
0.55 kg
Availability:
In Stock
Price: 11.20 €

Dishwashing liquid is made with Marseille soap flakes - cooked in a cauldron to genuine Marseilles soap-making traditions.
Composed of plant origin ingredients;
Effectively cleans grease;
Can be easily rinsed off;
Hypoallergenic and gentle to skin;
Product is a concentrate; prepare applicable dilution by adding water to detergent;
Pleasent grapefruit scent.
Application: concentration - from 0,5 to 1,5 ml of detergent per 1 liter of water.
Composition: 5-15 % of anionic surface agents, less than 5 % of amphoteric surface agents, fragrances, conservatives, soap.
Write a review
Your Name:
Your Review:
Note: HTML is not translated!
Rating:
Bad
Good
Enter the code in the box below: