Floral water set DABBA Power from the meadow, 50ml x 3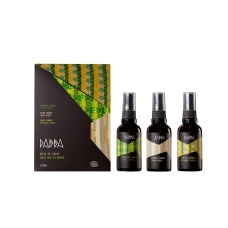 Brand:
Greenwalk
Product Code:
DABBA9
Weight:
0.34 kg
Availability:
In Stock
Price: 15.00 €

This is a symphony of DABBA meadow floral waters. Power From The Meadow is reverberations created by the Peppermint, Yarrow and Meadowsweet Floral Waters. Get immersed in the lucidity, balminess and mellowness of the meadow!
Peppermint Floral Water 50ml
Cleansing and soothing toner for mature and tired skin care. Made from the most fragrant and aromatic peppermint. Let the scent resonate deep, deep within you. Good for use after shaving and epilation, while enjoying steam bath, as well as in eye compresses.
Yarrow Floral Water 50ml
Cleansing and soothing toner for mixed and problematic skin care. Made from yarrow blossoms collected from meadows basking in the rays of the summer sun. Calms and revitalizes sun - kissed skin. Also good for hair and scalp care, and will soothe your skin after shaving and depilation.
Meadowsweet Floral Water 50ml
Cleansing and soothing toner for normal and problematic skin care. Made from fragrantly honeyed meadowsweet blossoms. Comforts your skin after sunbathing, soothes the skin after shaving and epilation. Will caress your skin when enjoying steam bath and applying eye compresses.
Feel and enjoy the power of DABBA floral water
Wake up your skin and self in the morning by a cool mist of floral water;
Condition your skin before applying cream, resulting in greater effect;
Revitalize your skin during the day by keeping it fresh and radiant;
Moisturize and soothe the skin while working at computer, during the winter-heating season or in air-conditioned room;
Comfort your skin after sunbathing or prolonged exposure to wind, snow and frost;
Refresh and cool your skin during hot weather while improving the circulation;
Refresh your skin during sports activities and after workouts;
Moisturize your skin while traveling on plane or car;
Rejuvenate the skin at the end of working day, promoting the formation of new and healthy cells.
Natural and organic cosmetic certified by Ecocert Greenlife according to Ecocert standart available at http://cosmetics.ecocert.com
Write a review
Your Name:
Your Review:
Note: HTML is not translated!
Rating:
Bad
Good
Enter the code in the box below: